Meet the Business Team
Karen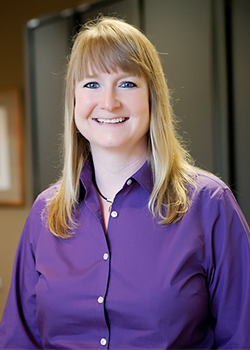 Insurance Coordinator
The favorite part of my job is working with our patients. I will help you with your insurance needs to make sure you minimize out-of-pocket payments and get your treatment of choice. If anyone in our office has questions about dental insurance, I hear my name being called. I am our go-to person for computer questions, so I handle our technology issues, too. My husband Kelly and I have a daughter, Tara, and son, Mitch. We also have two dogs and one cat. The best times away from work involve spending time with my family and friends but I also try to squeeze in some gardening or watching NASCAR when I can.
Laurie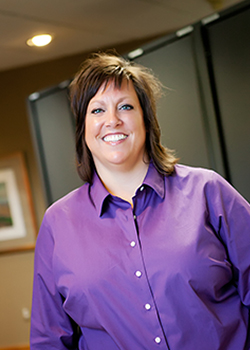 Treatment Coordinator
I get to know our patients on a personal level and always treat them as I would want myself or my loved ones to be treated. That means fully listening to their concerns with compassion and empathy. All of us here want you to feel welcome and cared for when you visit. There are always smiles, usually laughter, and you may even hear a little singing! I will handle all of your scheduling to make sure we get you the care you need in a way that is convenient to your schedule and lifestyle. At home, I share my life with my husband, Jeff. We have a son, Lane, and a daughter, Kolbi. When I am able to fit it in, I enjoy camping with my family and friends.
Natasha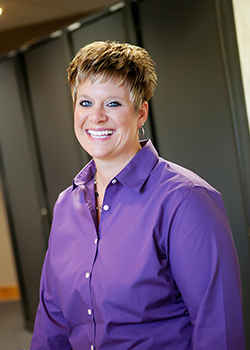 Financial Coordinator
I have built lifelong relationships with our patients. It means so much being able to help a patient's dental needs fit within their budget and then on top of it getting to see their rewarding, stunning smile when they are finished with their treatment. My doctors have a vision of health and education for our patients that I share. Our team is a family. We visit classrooms, are very involved in the community, and take part in both local and international mission work. I share life away from the office with my husband Chad, son Caleb, and two daughters, Allison and Avery. I enjoy watching our children play sports and following my husband's varsity girls' basketball teams. I am also involved in Children's Ministry at my church and am a member of the Ithaca Promotional Committee.
Meet the Registered Dental Assistants
Sue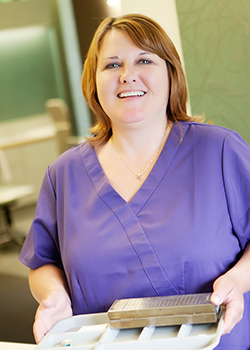 Registered Dental Assistant
I like to make sure that our patients are always comfortable. If they are chilly, I provide them with a toasty blanket. If they would like music to help them relax, I provide them with one of our iPods. I know that most people can get a bit anxious about coming to the dentist, but I don't want them to feel that way. The best part of my job, though, is seeing and meeting different people every day. My job is to help the doctor I am assisting deliver excellent care to our patients. I take impressions, make temporary crowns, bleach trays, prepare crowns to be seated, ready treatment rooms, and many other duties. My family consists of my husband, Rick, our children, Crystal and Cole, and our Shih Tzu, Harley. I really love tent camping, boating, hiking, and fishing.
Tina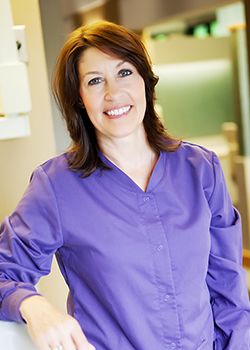 Registered Dental Assistant
After 25 years of working with our doctors and seeing the level of excellence they consistently achieve, I cannot imagine working anywhere else. The best part of my job is getting to know our patient, visiting with them, and putting them at ease during their treatments so they stay relaxed and worry-free. I also assist our doctors by making impressions, placing silver fillings, taking X-rays, and helping to keep everything run smoothly so they can focus on our patients. As the office wildlife photographer, I get teased for the attention I lavish on the beautiful birds, squirrels, cats, and other wildlife that are readily seen outside our treatment office windows. In my personal life, I am married and have two children. I enjoy spending time with my family, golfing, working out, or participating in fitness events such as marathons.
Meet the Registered Dental Hygienists
Chanda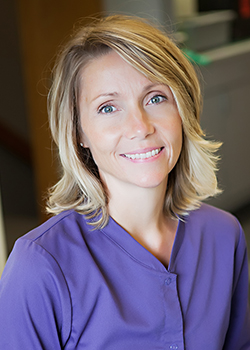 Registered Dental Hygienist
I truly value each patient for who they are, love working one-on-one with each of them, and also educating them about keeping their teeth and mouths healthy. It always makes me happy to see how much our patients of all ages enjoy watching the birds come to feed at the many feeders we have placed outside our big windows. We work hard in our office, but we also know how to have fun together. At home, my husband and I have two children. I am an active member of our church and am a catechism instructor. The outdoors is one of my passions. I am a 4H leader and member of 4H Leaders Council.
Donna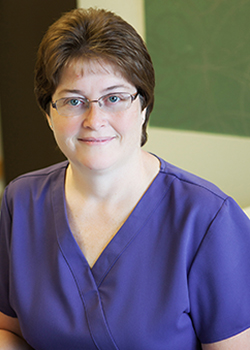 Registered Dental Hygienist
I love to see the progression from when a patient first comes to our office to years later, when they have properly managed their oral health and hygiene. I teach how to prevent periodontal disease and decay, and about the link between their oral health and systemic disease. I also assist our doctors in detecting decay, taking X-rays, doing fluoride treatments, placing sealants, and providing professional cleanings. It is really interesting getting to interact with so many different people; you could not help but learn, laugh, and make great friends. I have been married for more than 20 years and have a teenage daughter and pre-teen son. In my spare time, I love watching my children in their sporting events, going jeeping, and am a huge NASCAR fan.
Jeanette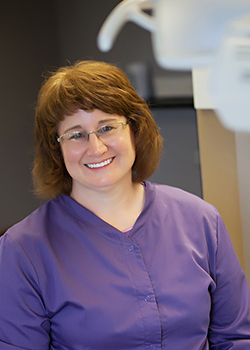 Registered Dental Hygienist
My greatest satisfaction comes from giving my patients the highest standard of care and enhancing their lives by helping them to maintain healthy teeth. A large part of my job involves educating those I treat about good daily practices and diet. We never forget here that great oral health is the gateway to superior overall bodily health. Though we take what we do here very seriously, we still have a good time every day and always squeeze in plenty of smiles. My home life is enriched by my husband John, and our three teenage children. For leisure, I love camping, outdoor activities, reading, and any activity that includes being surrounded by friends and family.
Jennifer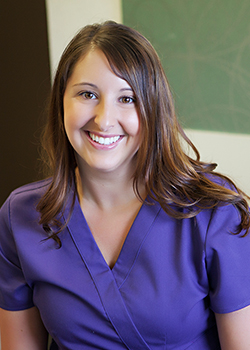 Registered Dental Hygienist
I always look forward to the one-on-one interaction with my patients and love getting to know about them and their families. The first time you step into our office, you will know right away from the smiles and personal attention that you have come to the right place! We will make you feel at home and give you fantastic care. I deliver professional cleanings with a gentle touch and want my patients to feel relaxed and comfortable during each visit. It is amazing what a smile can do and I love to keep things positive! Out of the office, I am happiest when I am spending time with my family. That is, my husband Kirk, our daughter Madelyn, and our son Parker. I always have my music playing when I am at home, usually cleaning and organizing things! I also enjoy scrapbooking and camping.